Packing Tips for Preparing for Your Upcoming Move
Packing correctly ensures your property and belongings will arrive safe and sound at your new home. While our professional Toronto movers take steps to help protect items while in transit, you still need to verify you have packed them properly to protect them from vibrations, stacking, and other movements that could cause damage.
1. Use the right size moving boxes.
It is important to pack items in the right size boxes. People make the mistake of getting the largest boxes they can find when preparing for a move. The problem with this, is larger boxes are not well-suited for fragile and heavy items.
Instead, you need to use smaller boxes for fragile and heavy items. Smaller boxes ensure the weights do not become overly excessive, as well as makes it easy to pad and protect fragile belongings.
Small Boxes – Great for books, DVDs, CDs, heavy items, dishes, glassware, and other fragile items.
Medium Boxes – Ideally suited for clothing, sheets, towels, larger dishes, and cooking utensils.
Large Boxes – Great for lightweight items, like comforters and pillows.
Wardrobe Boxes – Perfect for clothing you have on hangers.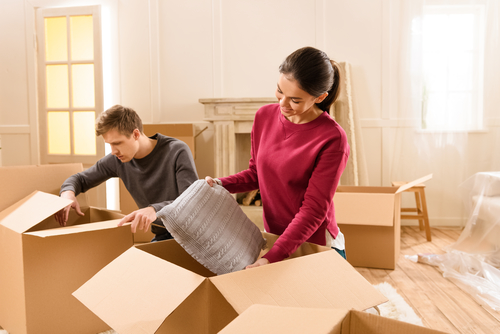 2. Use bubble wrap, foam padding, foam peanuts or other padding for fragile items.
You need to wrap fragile items up in some form of protective padding to avoid breakage. Bubble wrap works great for most items. There are also special types of padding you can use with dishes and glasses.
3. Prep furniture by wrapping it in furniture pads.
You will want to obtain furniture pads from your professional Toronto moving company to wrap up larger furniture pieces and protect the finish from damage during the move.
4. Inform your mover of any artwork, paintings or mirrors that need moved.
With these types of items, they need to be kept upright during the move. In addition, they need to be protected with padding or art work boxes. For smaller pieces, there could be special shaped boxes you can use that also includes foam inserts.
5. Do not leave boxes partially empty.
When a box is not fully packed, the contents can move around and could get damaged. It is better to fully pack the box. If you do have boxes that are not full, you either need to use a smaller box or make sure the space is filled in with foam peanuts, wrapping paper, and other padding.
6. Write a summary of the contents on the outside of the box.
While writing the room or using colour coded stickers of where you want the box unpacked in your new home is useful information for the movers, you also need to include a summary of the contents. This will let your movers know if there is anything fragile inside and assist them in ensuring it is packed in the right location on the truck.
If you need help packing, or dislike packing for a move, remember to inquire about our professional packing services, where we will pack up your home for you as part of your full service move. To learn more about this service, to obtain packing materials and supplies, or for a free moving quote, contact Accurate Movers at 416-907-8545 today!
---
---