Top Office Moving Mistakes and How to Avoid Making Them
Relocating your office to a new building, whether you are upgrading to a larger space or down-sizing, requires proper planning and preparations. Unlike residential moves which you can organize with little notice, office moves require a minimum of at least one month of advanced planning for small businesses.
If you have a medium or large office business, then it is highly recommended to start your office moving planning a minimum of two months in advance. Over the years, our Toronto moving company and professional movers have witnessed common mistakes other business owners have made when moving their office.
We are excited to share these with you in hopes they will help as your planning your upcoming office move and you avoid making the same ones.
Mistake Number 1: Attempting to Do the Move Yourself
Enlisting the help of employees for an office move is not the same thing as asking your friends for help with a residential move. There can be certain financial and legal obligations the business owner must adhere to. For instance, you will have to pay your employees their normal rate of pay and possibly overtime. In addition, if an employee gets injured or hurt, you could be responsible for their medical treatment and care.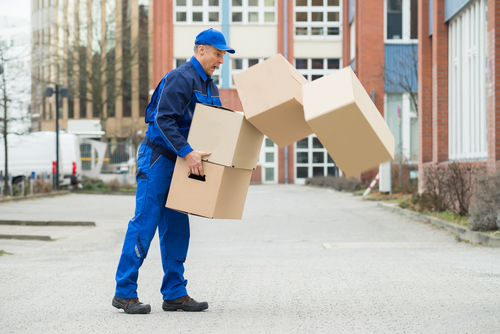 Mistake Number 2: Not Notifying Service Providers or Clients of the Move
You need to let your service providers and clients know you are moving your business. With service providers, they typically can have at least one month's lead time to transfer, turn on, or shut off services. Schedule these as soon as you know your moving date.
Notify your clients using your website, emails, and social media pages to alert them of the move. If you have actual addresses of your clients, consider sending them a postcard with your new address and contact details.
Mistake Number 3: Using Only Large-Sized Boxes
It might seem like a good idea to just pack everything into the largest boxes you can find. Fewer boxes means less to move and unpack right?
Wrong, because finding what you need can take longer. Not to mention, heavy items in large boxes means it will be harder to lift and move the boxes safely. Furthermore, the bottoms could break open and all of your items will fall out.
Mistake Number 4: Wasting Time and Money to Move Every Item
If you have an office stacked full of old office furniture, unused equipment, or other such items you no longer use, why move it? Your move will cost more and take longer to get done. A better option is to get rid of these things through donations, recycling, selling, or in the trash. Ask your Toronto Moving company if they provide this service as it will streamline the whole process.
Mistake Number 5: Not Hiring a Professional Office Moving Company
Experienced office movers understand the complexities and challenges of relocating your business with the least interruptions to your day-to-day operations. They provide access to the necessary moving supplies, equipment, and packing materials you require. In addition, they will work with you to determine the best times to complete your move as quickly and efficiently as possible.
For assistance in preparing and planning for an upcoming office move, or to request a free moving quote, please feel free to contact Accurate Movers at 416-907-8545 today! We provide residential, office, and long distance moving services in Toronto and the GTA.
---
---