Spring Cleaning Tips to Avoid Excess Clutter
It is easy to get complacent when it comes to our belongings and adding to our collection of items in between moves. Even if you own your own home and intend to be there for an extended period of time, before you know it, your closets will get full and you will notice you are running out of storage space for everything within your home.
Rather than let your belongings take over your home, it is better to go through them, at least once  year and the springtime is perfect, since you are already spring cleaning your home! Depending on how many closets full of belongings you have, the task might seem overwhelming, but with a little planning, preparation, and these tips from our professional moving company in Toronto, you will get through it much easier.
Tip # 1 Start in One Area of the Home
The best way to avoid having numerous piles of stuff pulled out of your closets is to start with one and complete it before moving onto another.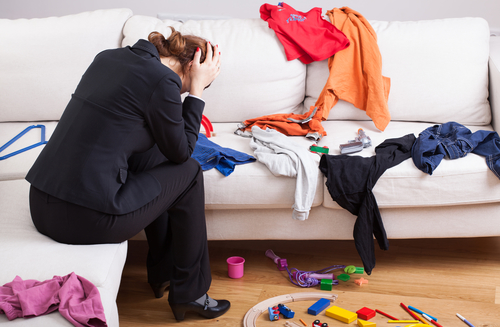 Tip # 2 Designate an Area in the Home for Three Sorting Piles
The dining room can work great if you have sufficient room for this tip. One pile should be things you want to donate, another for items you want to sell, and a third pile for trash.
Tip # 3 Use Plastic Totes and Bins for Sorting and Storage
Get several different sizes of plastic totes and bins you can use for sorting purposes, as well as organizing your closets. As you take stuff out, make sure to have three big ones that will be for your sorting piles (see Tip # 2 above). For clothing, use hangers for shirts, jackets, pants, and other such items. Small plastic totes work great for socks, belts, ties, and other small items.
Tip # 4 Store Seasonal Clothing/Items under the Bed
You can free up closet space by storing winter clothing and other seasonal items in totes underneath your bed. Many people overlook this valuable space and never take advantage of the added storage space it provides.
Tip # 5 Label Totes and Bins
To make it easier to find items after you put them back into the closet, write down a summary of the contents on a sticky label and attach it to the side of the tote or bin.
Tip # 6 Use Small Shelving Units for Added Storage Space in Closets
The floor space in closets tends to be underutilized and most people just stack totes and bins on top of each other, making it difficult to get to items on the bottom when they need them. Instead, install shelving units in the bottom of the closet so accessing items is easier.
By taking the time to keep your closets organized, not only will it prevent you from running out of storage space, but also makes it easier when it does come time to move. For storage boxes, packing materials, and all of your moving needs, remember to contact Accurate Movers at 416-907-8545 today!
---
---