Selecting the Right Size Moving Truck: Tips from Our Toronto Moving Company
When you are preparing for an upcoming move, one the most important details you will need to determine is what size moving truck you are going to need to transport all of your belongings from your current home to your new one. It is easy to make a mistake and choose a truck that is too small to hold all of your home's contents.
The reason we might think we need a smaller truck than we actually do is because moving trucks can appear to look bigger than the actual amount of contents they can hold. Having a rough idea is essential to ensure your move goes smoothly. While our moving company in Toronto will be there to lend our expertise and assistance, we do offer the following tips to help you determine how big of a truck you actually need.
How many belongings do you have?
There are apps and other tools you can use to get an approximation for the correct size truck. However, these do not take into account every unique situation or person. Rather, they tend to provide information based upon average minimums, not actual real-life configurations. For instance, the app may only take into account a queen-sized bed, one wardrobe, and one dresser for a basic bedroom configuration.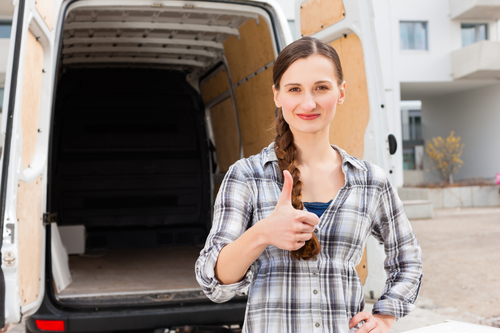 To get a more accurate assessment, make a list of all of the furniture pieces you have in your entire home and their sizes. Even though some of these items are able to be stacked, it is better to know exactly how much room inside the truck is going to be needed just for furniture.
Aside from furniture, you also have to take into account your other items. Again, it is helpful to make a list, as not only will this help you figure out the amount of space needed on the moving truck, but also how many moving boxes and box sizes you will need.
How many cubic feet is available on the truck?
The storage space on moving trucks is often listed as cubic feet. This measurement is used as a guide to determine what size you need and includes the space from the floor to the roof of the truck. Since most of us are not professional movers and packers, using our experienced movers ensures every cubic foot of space is maximized and properly packed.
A good guideline to use is each room on average, requires between three and four cubic feet of space. Do keep in mind this is just an estimate, so it may not reflect the amount of space you need per room. Fortunately, you can get help from us, here at Accurate Movers to guarantee you select the right size moving truck, so you do not have to worry about selecting a truck that is too small or one that is too big to suit your needs. Call us at 416-907-8545 for more information and assistance today!
---
---